Mirror, labeled The Pity Player, is a female contestant on Object Mayhem as a former member of Team Lucky. She was the first person eliminated from the show in Find it! with 30 votes, but she rejoined the game in Episode 15. She returned as a contestant in Season 2.
Personality
Mirror is shown to be very kind and caring. She is very friendly all the time
Appearance
Mirror has a light brown frame which supports, of course, the shiny mirror in the middle. In space, her glass mirror appears in a dark blue color, although when on earth it has a light blue shading.
Coverage
Unusual but good
In Episode 1, Mirror doesn't do much other than ask Burrito if She could join his team. At the end of episode 1, Mirror ends up being up for elimination along with the rest of his team.
Find it!
In this episode, Mirror obtains the most votes from the viewers at 30 votes, therefore being eliminated. Before being eliminated, Mirror confesses that She would miss everyone on the show but is then cut off due to getting hit by the enormous elimination bowling ball.
Robot Frenzy
In the ending scene of Robot Frenzy, Mirror is seen lying flat down on the moon. She then wakes up and questions how he got there, seconds later being crushed by Donut.
And Bingo was her name-o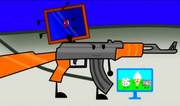 In the start of this episode, Gun seeks revenge on his team and therefore strangely flings Mirror into earth. Mirror then lands on Ice-cream, killing her, and then Mirror is broken.
Cheese a Crowd
After the credits, Mirror talks with Sharpener about why they were eliminated, not long before Notebook and Bouncy Ball land on the moon.
A Space Odyssey
When Calculator arrives on the moon, Mirror questions why they were present. Mirror votes for Button, because Button is a pessimist.
Dice and the Candy Emporium
Mirror rejoins the game in this episode. She starts to get in the car and goes to the Candy Emporium along with the other contestants doing it.
Tremendous Treadmills
Mirror get's shattered due to Perfume's Scream, and remains dead for the rest of the episode.
Trivia
Mirror is the first contestant to be eliminated ever.
Mirror was the last contestant to be seen with "check-it" (eyebrows that face the same way) eyebrows.

Camera was not seen with check-it eyebrows either in the show, but on SammyShinx's OM fan camp (which is on hiatus until the summer), She is (first time on Bubble Gum, a cyan camera).

Mirror is the first contestant to get her design changed.
Mirror is the only O.M character to rejoin the game.
Gallery
Community content is available under
CC-BY-SA
unless otherwise noted.